#AskAwayFriday with Mrs Tiffany!
Hi everyone! How was your Friday so far? Mine is good! :) We had a surprise today! My Aunt, who is a Nun, came home from Cebu! She lives and teaches in Sisters of Mary School for Boys which is also affected by the
earthquake
that recently happened. They had all their students return to their places here in Iloilo until the aftershocks are over. She accompanied some of the boys in going home, so after that she proceeded home. And now here she is! We've just finished praying the rosary and now everyone's asleep (except me and my brother who's busy with the computer). :D
And since it's friday, it's time for #AskAwayFriday! Yippee-yay! (That rhymes!) A few days ago, I received a message on twitter from Mrs Tiffany inviting me to join the link-up and swap questions with her. It looks fun so I said yes! And here I am now, answering her questions! :)

I think one of the best blogging decisions I've made is having a blogging challenge, because I get to meet and know a lot of wonderful ladies including Mrs Tee, Team Haywood's Momma. =) She has six wonderful children and one loving husband she likes to call 'Hubby'. She blogs at
Love Life Laughter
which has a wonderful meaning to it - '
In every situation
and scenario
I've ever faced, Love Life and Laughter have gotten me through…the Love of my God my Hubby and my Kiddies plus the Life we are so Blessed with and the Laughter they always bring me. -Mrs Tee'.
1. How did you come up with a name for a blog?
I had Maryiad for a blog name before I came up with SOB. It's a cross between Mary and myriad which translates to something like 'the different sides of Mary'. Does that makes sense? Lol! Anyway, the reason behind the blog name is in the name itself. I could have thought of something nicer but this one is special because it descibes pretty much what this blog is - a secret obsession. None of my family members (well maybe except my 12 yo sister) and friends know that I have a blog. It's a secret. Blogging has become more of a daily routine ever since I began at the start of 2012. I was hooked and kind of obsessed with it. So that's how Secret Obsession came about. :)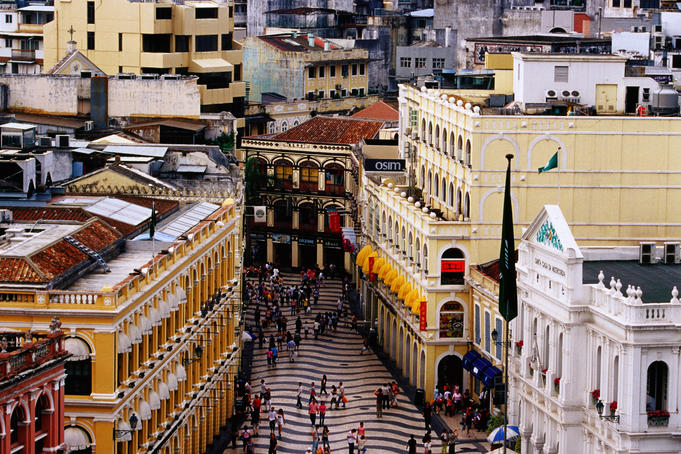 lonelyplanet.com
2. Being a Tourism Major, what are some of the places on the top of your to go List?
I figured I should visit a few places from our continent first, so here are my Top 5 to-go places in Asia.


Macau - I would love love love to go around Macau on foot in the evening!
Thailand - I'd want to visit the Temples as well as the resorts!
Korea - just because! :)
Taiwan - I saw on TV once that Taiwan has these beautiful resorts on top of their mountains and I'd like to pay it a visit. :)
Malaysia - I'd love to see the Petronas towers plus visit all the wonderful nature reserves/National Parks!
3. Is this your first blog? If not, what was your prior one like?
This would be my second blog. I've had one in Tumblr that I started more than a year ago. It was also a personal blog but with way more personal posts. Mostly, I would blab about how my day went, write essays about my crush (haha), post random photos and one-liners and reblog. Typical tumblr blogger. Lol!
4. What do you do to relax?
I read blogs! :) Isn't that a fun way to relax? Or sometimes, I put on some slow music, lie in bed and feel the fresh country air. Sometimes, I read a book or two. :D
5. Where do you see yourself in five years?
In five years, I see myself as a succesful woman who has a stable job, and has already crossed off all of her 'Goals before 25' bucketlist (which I am yet to make).
6. Does your family read your blog?
Nope. :) They don't even know I have one.
7. What is your favorite guilty pleasure food (I know the internet is you guilty activity...lol)?
Cake and chocolates. Yeah, I can sometimes finish several servings of cake or even a whole big bar of Kitkat's. Haha!
8. Would you rather go bowling or catch a movie?
I don't know how to bowl so I think I'll just watch a movie. I'd really want to learn how to bowl, though.
9. Would you rather type or hand write a letter?
Though I fancy typing, I would rather hand write a letter especially when its a personal one. I think that makes it even more special. :)
10. My signature question: are you part of the Coffee Crew or the Tea Team?
Honestly, neither. Sorry guys. Haha! I both love coffee and tea. As for coffee, I'd love an ice-cold one and as for tea, I love milk tea! :)
Yay! All done with Mrs Tee's questions! :) Join us next week on Ask Away Friday! I'ts simple! All you need to do is find a friend whom you can swap questions with on or before Wednesday of the week, post your answers up on Friday, and link-up on the co-hosts' blog! You can go tweet about it too using the #AskAwayFriday hashtag.
We'll be expecting you next week on the link-up! :)